Skip to main content
It looks like you're using Internet Explorer 11 or older. This website works best with modern browsers such as the latest versions of Chrome, Firefox, Safari, and Edge. If you continue with this browser, you may see unexpected results.
Where do I start?
Let's go!
It may feel disorientating to receive a research assignment from an instructor, especially if you have never done literary research before. You may be familiar with the topic of the assignment a bit, but how will you complete the work? It can help to follow a "process." Try the one we outline below. Not comfy? Mix it up to suit your personal research style!
Your Assignment and the Library
Your Metamorphosis assignment (Essay #3) asks you to find some sources for one of the two topics you have been offered. The CCSF Library, in particular, can help you:
find "one piece of literary criticism or a critical essay or book chapter on 'The Metamorphosis' written by a literary scholar" NOT from the open web or Wikipedia
find "one interdisciplinary source (psychology, economics, etc.)"
cite your sources, including quotes from "The Metamorphosis"
What search words should you use?
We will derive some of your search words from your topics, as well as from your own brainstorm.
Your topics related to "The Metamorphosis" offered by Professor Goldberg are:
Work hard and you'll get ahead is a truism many believe in. Supporting his family, Gregor Samsa works hard, rising at 4:00 a.m., working for a company his father is indebted to, and giving most of his earnings to his family. He even plans to send his sister Grete to an expensive music conservatory. However, in the end, he winds up spending his last months in his room, where he dies, alone. Do you believe in the work hard-get-ahead truism? What does Franz Kafka's "The Metamorphosis" suggest about this truism?
Some critics believe that "The Metamorphosis" should be treated as a parable about what happens when one family member suddenly becomes disabled and dependent because of sickness, age, or some other ailment. The story makes readers question family obligations. To what degree do you think family members should sacrifice their own lives in order to care for loved ones who have become disabled? Does the Samsa family meet their obligations?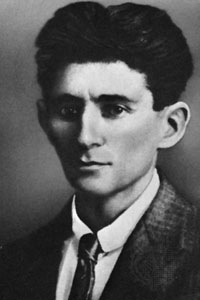 I like to take my topic and brainstorm a little list. Here is a way to break that down:
Required words:
And your sub-topic - what sticks out to you?
family?
work?
obligation?
This combination of terms will be helpful in finding the literary source you need, though certainly, try other words you think a literary scholar might include in their work!
When I put these together in an online search, it would look like:
Metamorphosis and Kafka and [insert your sub-topic here]
Search in Library Resources
Where can you find a "piece of literary criticism or a critical essay ... written by a literary scholar"?
you can use OneSearch (which cross-searches many library databases at the same time).

start on the Library website and in the 'Online Only' box, enter something like:

Metamorphosis and Kafka and (your topic) and literature

skim your results and source options, you will want to confirm that your author is a literary scholar. Try Googling them!

you can start directly in a literature database called Literature Resource Center.

search: Metamorphosis and Kafka and (your topic)

note: since you are already in a literature database, it is unlikely that you need the additional term: literature

look through the results labeled "Critical Essay" to select your source.
How should you find "one interdisciplinary source"?
Think of the sub-topic you chose to follow in your essay.

Are you interested in family dynamics? Maybe you could look at family dynamics from a psychology source.
Are you interested in work ethic? Perhaps you could look at a business source, or an economics source, or a sociological source.

Your sub-topic is likely something that is occurring in society, and something you want to know more about! What words would a writer use to talk about that? We will use those words to search! Use them in

OneSearch to cross-search many databases at the same time, or!
pick a subject specific database from our A-Z database list

for example, if you wanted your interdisciplinary source to talk about families and psychology, I might choose one of our Psychology databases.
When searching for sources:
be flexible! Someone may not have written the article you want yet :) Try new words!
be open to changing your mind! The source might help you think of something in a brand new way.
Citing
After you have read your sources and decided you will use them in your essay, be sure to add them to your Works Cited list! You can create it from scratch, or use the library subscribed tool, NoodleTools. More about MLA style citations and NoodleTools are available on the "CIting Sources" page.

Library & Learning Resources, City College of San Francisco
50 Frida Kahlo Way, San Francisco, CA 94112 | 415-452-5541